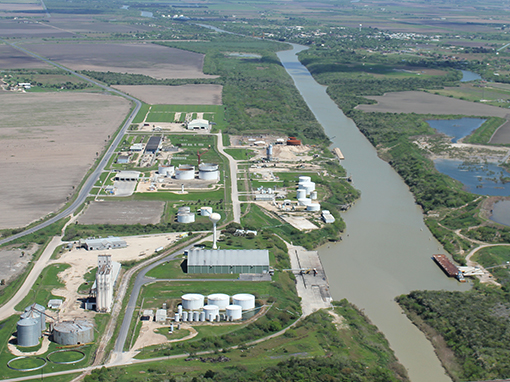 The Port of Harlingen
is a shallow draft barge port that is part of the Gulf Intracoastal Waterway, which provides over 1,300 miles of protected waterway. This strategic location offers a comprehensive transportation network with easy access to rail, air, and international highways. is also part of Foreign Trade Zone No. 62, located in Cameron County, Texas.
The Harlingen channel is maintained to a width of 125 feet and a depth of 12 feet with a turning basin that is 400 feet wide and 14 feet deep.  It is supplied by the Arroyo Colorado, a fresh water river. Terminal docks and other facilities ease shipments into and out of the Port.
What We Offer
As a landlord port, the Harlingen Port Authority boasts over 150 acres of on-and-off channel sites that are available for industrial firms requiring economical transportation and attractive land lease rates.
Facilities Specs:
130 acres of developed land

450 acres of potential development sites

650 feet of dry cargo wharf

100 feet of dry bulk wharf

4 liquid bulk docks

2 dry bulk docks

50,000 square-foot dry bulk handling facility

3,700 feet of rail.  
Barges, Stevedoring & Bridges:
Normal capacity of dry hopper barges are 1,200 to 1,500 short tons. Liquid barges carry between 24,00 and 28,000 barrels. Stevedoring services are available by various independent companies who can quote all inclusive costs for the service required. The
Free Trade International Bridge at Los Indios is 18 miles from the Port.
Electric & Internet Services
Electrical service is provided by American Electric Power. Single and three phase power is available at standard, primary and secondary voltage. The port is serviced by air fiber, and can help you secure speeds up to 100MB x 100MB
Natural Gas
A 4-inch main brings natural gas to the Port at approximately 200 pounds per pressure. The BTU rate is 1 cubic foot = 1,000 BTU's
Rail Service:
Rail service is provided by
Union Pacific, Burlington Northern – Santa Fe, and Kansas City Southern de Mexico when transporting to Mexico.
Work on The Port of Harlingen
The Port is a strategic location for companies from various industries including Energy, Construction / Industrial Manufacturing, Agro Chemical Manufacturing and Agriculture. Our Port tenants include: 
Nu Star Energy
Cemex & Chalico Concrete
Rhyner Construction
Favelle Favco Group
Crop Production Services Inc
Wilbur-Ellis

RGV, Sugar Growers, Inc.

Helena Chemical
Sanders
Gavilon
RGV Gin Co
Harlingen Gin Co
Earthwise Organics